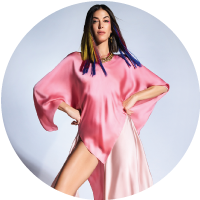 Wendell Rodricks Dresses Collection
Call it the Portuguese influence in dressing, Wendell Rodricks dress collection draws influence from the Goan heritage. Whether strolling on the Goa Beach, dancing at the Goa Carnival, or kneeling on a pew at the Se Cathedral de Santa Catarina, there is a Wendell Rodricks dress to wear everywhere in Goa and beyond. The Wendell Rodricks dress collection, whether seen in the pages of Vogue, Harper Bazaar, Femina, Elle, or seen on you trotting the globe—is fashion-forward and fabulous. The Wendell Rodricks dresses collection is a mix of casual daywear and evening wear. The dresses are a mix of Eastern ease and Goan glam.The dresses are available in different styles, cuts, colours, and fabrics. These Wendell Rodricks dresses are an essential part of the western wear wardrobe for women in designer wear. Wendell Rodricks dresses collection, like all his other collections, care for animals, handlooms, and the environment. You can also shop designer Banarasi Gowns, Summer Tops, Resort Wear, Designer Bottom Wear, Summer Sarees, Sarong skirt, overshirts, Resort Wear Dresses, Goan dress patterns, Goa wear dresses, skirts & more by Wendell Rodricks.
Designer Resort Dresses for Women
Wendell Rodricks Designer Dresses for women have expert tailoring and intricate details on the fabric. Every creation showcases bold cuts to blended forms. The dresses are an ode to reviving traditional weaving and dying crafts. When you own a Wendell Rodricks designer dress, you own a part of his favourite Goa and Indian heritage, which he contributed to in more ways than one. Designer dresses for women from the collection of Wendell Rodricks label always cook up a storm. So, while you are browsing the collection, stretch beyond your wildest imagination to find excuses to wear a Wendell Rodricks dress daily. Pick the midnight blue one-shoulder dress in linen base with an asymmetric pattern, Goa wear dresses, Goan dress patterns and bright green piping, and the white and black YingYang design dress, and the pale blue V-neck full sleeve angular hem layered dress with white piping and the others till at least you have one for each day of the week. Checkout designer collection for Men by Wendell Rodricks.