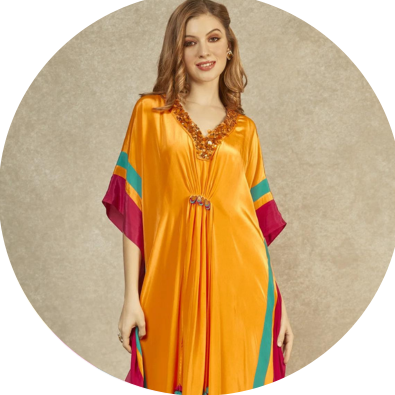 Shop the breezy new collection of Wendell Rodricks Kaftans
Clear skies, cooling popsicles, and lots of mangos - the hot Indian summer calls for airy garments, with relaxed silhouettes, and a bright colour palette to match its laid back vibe. Whether you are packing for a beach vacation or lazing around at home, freshen up your summer fashion wardrobe with beautiful and fashionable designer resort wear. Shop the easy and breezy new collection of Wendell Rodricks Kaftans and prepare to fall in love. These one of a kind garments featuring simple shapes, solid colour blocking, and minimal embellishments; its minimalist theme will make you stand out in a sea of busy patterns and embroideries. Made with top quality cotton, these designer kaftans let your skin breath while protecting it from the sun and look good doing it too! This collection is part of the larger Wendell Rodricks Seaglass collection, which is inspired from the striking and soothing hues of genuine sea glass. Ethereal looks, kaleidoscopic colours, rounded shapes - sea glass is testament to the beautiful product of nature and humankind working together. This curation is made with relaxing shades of greens and blues such as sea foam green, bottle green, turquoise, and teal, as well as rare colours of peach, light yellow, and ash grey. The designer jumpsuits feature gorgeous shades of pastel pink, aqua blue, lemon yellow, and ivory white; capturing the free spirit and openness that comes with summer. Throw on a peppy pink kaftan cut in a breathable linen base, featuring mint blue and yellow hems to brighten up your day with Kaftan dress, Kaftan gown, Turquoise kaftan dress and more. Style it with your favourite swimsuit and a floppy hat for a beach day or wear it with trendy Birkenstocks and a tote bag for a day at the farmer's market. No matter the occasion, you are sure to look absolutely stunning in a Wendell Rodricks creation!
Shop the complete curation of contemporary fashion by Wendell Rodricks
A leader in Indian contemporary fashion, Wendell Rodricks is a celebrated Mumbai and Goa based luxury design label. The eponymous label was founded by the 'Guru of Minimalism' himself, Wendell Rodricks studied fashion designing in the US and France and pioneered the movement for resort wear and sustainable fashion. Wendell Rodricks ensures it meets the highest international standards to give you the very best of luxury contemporary wear. It is one of the first designer brands to follow sustainable fashion practices and ethical production and consumption policies, thus reducing their impact on the environment. As a brand, they have always aimed to make luxury fashion accessible and affordable to all. Shop their incredible work at reasonable prices with the exciting collection of which includes a wide range of designer pants, tops, kaftans for beach, Kaftan gown, Turquoise kaftan dress, dresses, tunics,, kaftans, jumpsuits, capes, skirts, Kaftan dress, Kaftan gown, Turquoise kaftan dress and more. Explore the amazing collection of for designer shirts, pants, joggers, tunic shirts, shorts, and much more. Browse designer stoles and scarves from the latest collection of Wendell Rodricks Accessories for accessories that will make your outfit just right.also shop for Casual Blouse, Sarongs for Beach, Casual Jacket for Women, Shift Dresses, Asymmetric Dresses, Multicolor Dresses, Beach Kaftans, Honeymoon Dresses For Women & more.