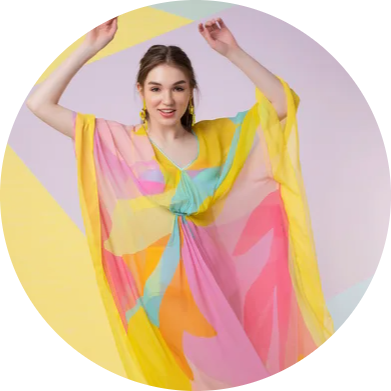 Shop the exciting new collection of Wendell Rodricks Womenswear
Contemporary fashion for women has come a long way and is continuously evolving. Reimagining garments that have been done a thousand times before is no easy feat, but Wendell Rodricks is up to the challenge. This eponymous designer label infuses its garments with a certain minimalism and authenticity by shedding all extra embellishments and ornaments, pulling focus to its sublime designs and flawless executions. Shop the exciting new collection of Wendell Rodricks Womenswear and prepare to be spoiled for choice! With a keen understanding of the needs and tastes of the modern Indian woman, this luxury label brings to you an absolute must-see curation. This curation is part of the larger. This comprehensive collection includes a broad range of designer dresses, jumpsuits, tunics, Summer beach dresses on sale and more one-and-done garments - looking effortlessly chic just go a whole lot easier! Mix and match to create your perfect outfit with its stunning array of designer tops, pants, skirts, joggers, shorts, and much more. Featuring a bright, sea glass inspired colour palette with lots of mint blues, aquas, pastel pinks, and lemon yellows; these garments have summer written all over it. With its neat lines, modern shapes, solid colour blocking, and crisp silhouettes; these Wendell Rodricks creations are true masterpieces.
Browse Wendell Rodricks Designer Jumpsuits, Dresses, Tunics, Kaftans, Pants, and more!
Whether you are heading to a Sunday brunch with the girls or packing for a much deserved tropical getaway, head to the vibrant range of Wendell Rodricks designer dresses, jumpsuits, tunics, kaftans, and capes for all your designer resort wear needs. Blend practicality with personality in a breezy cotton cami dress; its solid aqua blue colour is a palate cleanser from fussy patterns. Finish the look with a wispy cape cut asymmetrically in gauze linen and adorned with delicately hand-sewn organza flowers to give a 3D effect. Jazz up casual Friday at your workplace in a longline linen tunic with colour-blocked patchwork, a relaxed fit, and side slits; serving you with panache and purpose. Make working from home feel like a vacation with a peppy pink kaftan cut in a breathable linen base, featuring mint blue and yellow hems to brighten up your day. Freshen up your summer wardrobes with these incredible Wendell Rodricks garments!
Wendell Rodricks Designer Summer Wear Dresses, Tops, Skirts, Shorts, Stoles, and more!
Wendell Rodricks ensures it meets the highest international standards to give you the very best of luxury contemporary wear. This designer brand also follows sustainable fashion practices and ethical production and consumption policies, thus reducing their impact on the environment. Support the environment and look good doing it with Wendell Rodricks' designer tops, pants, skirts, joggers, shorts and much more! Make sure all eyes are you when you wear a mint crop top with flouncy batwing sleeves and a geometric colour blocking design. Wear it over a pair of new-age hybrid low-crotch dhoti pants; crafted in an airy cotton base and adorned with circular applique around the drapes. Drape,, Kaftan Dress, Sarongs, Designer Jumpsuits, Designer Cape Tops, Kunbi Saree online over a whimsical cotton stole and marvel at the power of light finishing pieces, the long piece is cut asymmetrically and trimmed with contrasting edges for a stylish flair. Shop for similar products with the gorgeous range of Summer Casual Tops for Women, Summer Vacation Dresses, Bottom Wear for Men, Designer Casual Western Wear & more.