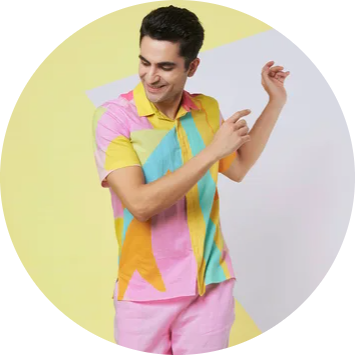 Shop the suave new collection of Wendell Rodricks Menswear
The Wendell Rodricks Seaglass Collection reimagines designer contemporary wear with its gorgeous colour palette of relaxing shades of greens and blues such as sea foam green, bottle green, turquoise, and pale aqua, as well as rare colours of pastel pink, lemon yellow, and ash grey. As part of this larger collection comes the suave new range of Wendell Rodricks Menswear. Look like the perfect gentleman with their broad range of designer shirts, tunics, shorts, joggers, and much more. As a designer brand and pioneer of resort wear in India, Wendell Rodricks not only keeps up with the trends but actively creates them. Indulge in their trend-setting outfits which show their keen understanding of the needs and tastes of the modern Indian man. A constant fixture on national and global runways, fashion shows, and exhibitions; Wendell Rodricks pieces are well known throughout the world. Despite the fame, their designers still prioritize careful designs and flawless execution which infuse the garments with a certain authenticity and minimalism, reducing any unnecessary embellishments and ornaments. Dive into the many clothing lines of this luxury label with the equally mesmerizing collections of Wendell Rodricks Womenswear and Wendell Rodrick Accessories, which include a wide range of designer dresses, jumpsuits, tunics, kaftans, capes, pants, shorts, stoles, and more. All of these products are made using the highest international standards while following sustainable fashion practices and ethical production and consumption policies, thus reducing their impact on the environment.
Freshen up your wardrobe with Wendell Rodricks Designer Shirts and Tunics
Elevating a wardrobe staple to a luxury fashion item is a signature move of the designers at Wendell Rodricks. The fresh new collection of Designer Shirts for Men and designer tunics uses modern design sensibilities and sheer creativity to add some panache to the simple shirt. Challenge gender norms and look good doing it too with a classic pink shirt crafted in cotton with a relaxed fit; it is primped with a blue patch on the pocket and piping to add a pop of colour. Indulge your inner minimalist with a shirt du jour cut in cotton with classic tailoring and power-packed with transeasonal and trendy aesthetics; its sombre colours make it easy for minimalists to dip their toes in the colour-blocking trend. Show off your refined sense of style with a designer tunic shirt with stylized raglan sleeves and crew neck highlighted with grey and yellow colours; the fuss-free silhouette is crafted in cotton to guarantee a year-long mileage.
Up your fashion game with Wendell Rodricks Designer Pants, Shorts, Joggers, and more!
Wendell Rodricks is a designer label that is not afraid to experiment with innovative new designs, unconventional silhouettes, and bright colours. Be a rebel with their latest range of designer pants, shorts, joggers, Tunic Shirt for Men, Bundi Jacket, Designer Casual Western Wear, Summer Kurta for Men, Linen kurtas, Long jacket for men, Black Mens Kurta, Casual Blazers, Mens Tunic Shirts, Green Mens Kurtas, Linen Mens Kurtas, Beach Wear for Men and more! Freshen up your personal wardrobe with a pair of bright mint pants that are anything but simple; made in linen with clean tailoring, these pants will lend the perfect balance between longevity and style. Get the basics just right with a pair of white dhoti pants with a low-crotch style and drawstring waist tie up, detailed with side pockets for a universal appeal. Rejoice your downtime in a pair of laid back linen shorts with side pockets, elasticated waist, and airy fit for a comfortable yet stylish choice.