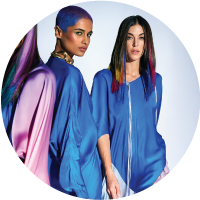 Shop the latest Wendell Rodricks Ready to Ship collection
Wendell Rodricks began their humble journey with a flagship store in Mumbai and expanded to several cities all over the country. They believe that couture and pret fashion should be accessible to all and are proud to introduce a brand new service to add more value to your luxury shopping experience - feel the joy of browsing through new clothes from the safety of your homes! You can explore the complete curation of Wendell Rodricks luxury wear for women and men through their easy to use online platform. Just as in everything they do, this designer label aims to provide the very best experience to their customers. Introducing their brand new collection of Wendell Rodricks Ready to Ship and Pret Wear items; you can now shop online and expect faster delivery dates! With a broad range of designer contemporary and ethnic wear at your fingertips, be prepared to shop till you drop. Freshen up your wardrobe with the effortlessly chic and casual range of contemporary wear which includes designer dresses, designer tops, designer shirts, designer pants, designer hoodies, and more. Add some ethnic charm to your personal style with the Indian and fusion wear options of designer sarees, designer kurtas, designer tunics, designer stoles, designer shrugs, Beach Wear and so much more. No more compromising with anything less than a jaw dropping outfit for an event. Their speedy delivery service will make sure your statement maker reaches you with minimal waiting times.
Shop Wendell Rodricks Ready to Ship Designer Dresses, Tops, Shirts, Pants, Hoodies, and more!
Ready to dispatch, fashion statement makers can now be yours sooner than you think with only a few clicks. Browse Wendell Rodricks Ready to Ship designer dresses, tops, shirts, pants, hoodies, skirts, overshirts, beachy dresses, beachy tunics, jackets, sarongs, and so much more for the creme de la creme of contemporary fashion. For a piece that goes with just about any modern ensemble, sport a white designer hoodie in a soft cotton base with a fashionable V cut and red, orange, and blue stripes design. Style it with wide legged satin pants and mules for an easy laid back look. Blend function with personality in a breezy cotton cream maxi dress; anything but uniform, this solid white colour is a palate cleanser from fussy patterns and comes with unconventional pearl embellishments. Prepare to fall in love, we know we did!
Shop Wendell Rodricks Ready to Ship Designer Sarees, Kurtas, Tunics, Stoles, Shrugs, and more!
Dressing for a home pooja or an intimate festive occasion has never been easier. Explore the charming new collection of Wendell Rodricks Ready to Ship designer sarees, kurtas, tunics, stoles, shrugs, beachy dresses, beachy tunics and more to jazz up your ethnic wardrobe. Throw on a gorgeous aqua pastel kunbi saree made from handloom cotton with stripes on the border, it can be surely passed through generations as a token of love and it does not even hurt your wallet. Go the simple yet classy route with a white double-slit asymmetric tunic crafted in a linen base, with a high round neckline with bundi buttons detailing and primped with black piping. Shop for similar products with the incredible collections of Wendell Rodricks Womenswear Sale and Wendell Rodricks Pret.