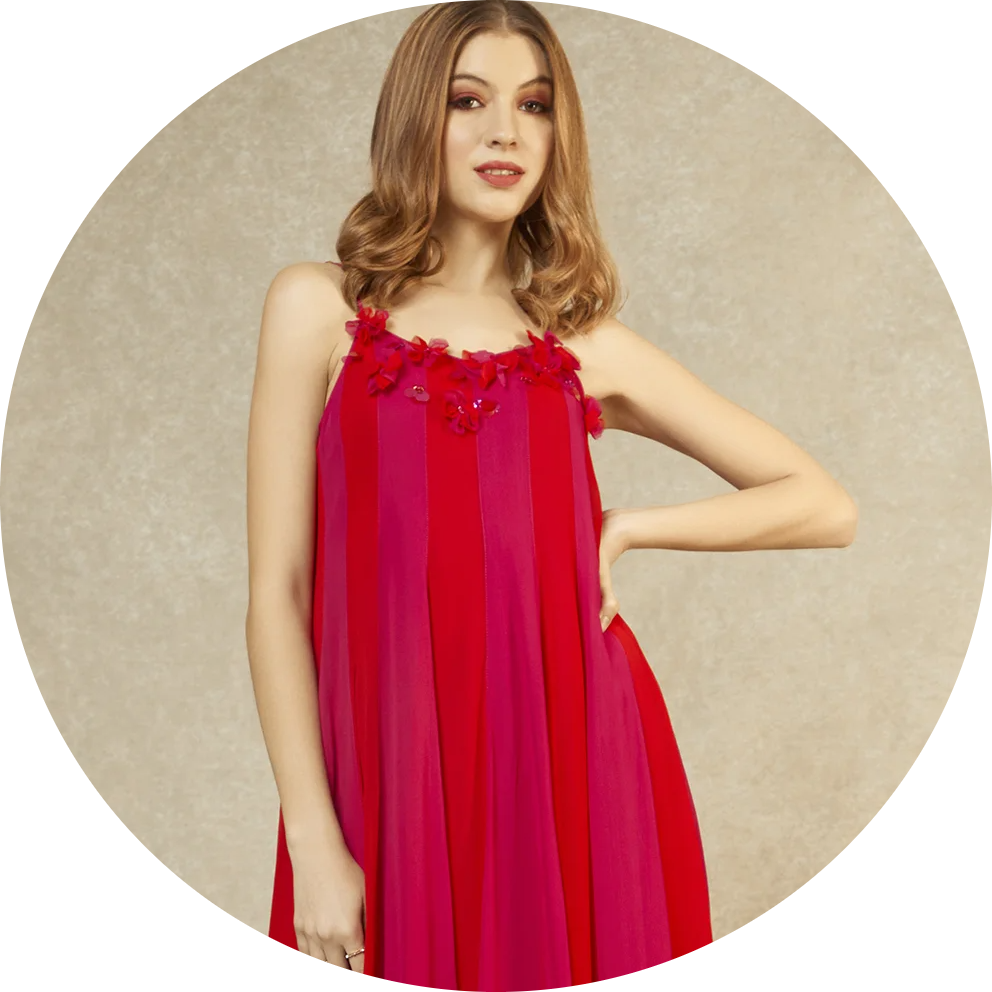 Dazzle with designer Casual Gowns by Wendell Rodricks
Casual gowns are a timeless style that can be worn for any occasion.The range of casual gowns for women offered by designer label Wendell Rodricks comes in a range of bright and vibrant pieces that are fit for both casual and formal events. From the various cuts, styles and designs to shimmery fabrics and bold geometric patterns, these exquisite pieces are sure to stand out from the crowd. The gowns adorned with delicate embroidery make for fabulous occasion-wear outfits with little to no effort. The collection's beautiful designs and flattering silhouettes will make you feel like an absolute style diva.
Thinking about what to wear for your next gathering? Opt for a trendy gown from the casual gown assortment by Wendell Rodricks, available online. Check out the "Rose Pink Crinkle Gown with Shrug" for an elegant evening look. For a truly statement-making look, go for the "Blue Bird Crinkle Petal Gown", which will surely have you turning heads. Another excellent piece to take a look at is the "Turquoise and Neon Green Asymmetrical Gown". Not only is the style and cut unique, but the two colors match perfectly and give it an eye-catching look. With so many choices available in the collection, you might not be able to stop buying just one! These casual gowns are perfect for weekend outings with friends or a night out across town.
Turn heads with casual gowns in flowy fabrics
From the stylish cowl draped gowns to the classic and sophisticated designs, this collection by Wendell Rodricks has it all. These not only come in a wide palette of stunning shades but also in shapes and sizes. The outstandingly beautiful gowns are crafted from fabrics such as chiffon, satin and more. Most styles can be easily accessorized with a simple pair of earrings and heels, which means that you will be ready in no time! Wendell Rodricks offers a wide range of casual gowns that are both flattering and comfortable. The designs are inspired by classic Hollywood fashion and they're modern and stylish. Whether you're looking for a simple design or a bit of sparkle, Wendell Rodricks has you covered. Also shop for Cape Set , Casual Co ord Set, Summer Bustier, Cotton Tunic, Embroidered Tunic, colour block saree & more.